Concrete Biological Treatment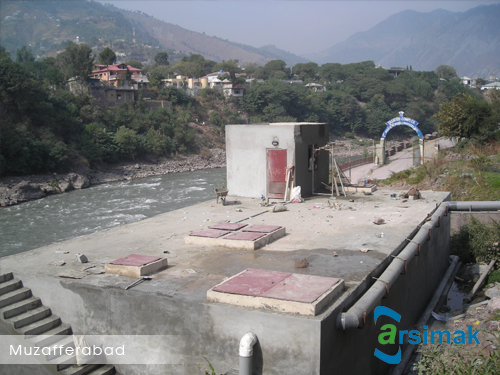 These units are constructed underground with service caps exposed. If desired, the concrete structure can be constructed above the ground. These units may be adapted to current septic tanks, concrete structures and water tanks with appropriate dimensions.
Even in variable wastewater capacities, the system is capable of yielding output water conforming to the Standard Values for Discharge of Household Wastes to the Receiving Medium under the "Regulation Governing the Control of Water Pollution". Such output water may be used for the irrigation of gardens.
The Plant treats wastewaters by a Biologic System employing a microorganism community called active smudge. As excess process smudge to be produced in the package treatment unit is mineralized, it may be sucked by means of a sewage truck at 4-5 month intervals based upon the pollution rate of the input water or employed as a fertilizer in case the medium allows.
Each part is covered under one-year service and maintenance warranty. Our company provides replacement parts and technical service for the subsequent years.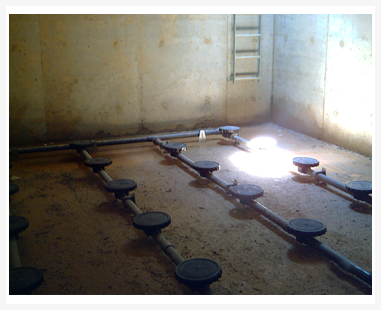 The system is equipped with a By-Pass valve to avoid obstructions in the diffuser. Furthermore, a high capacity-low capacity pako switch on the switchboard provides energy saving depending upon the flow rate of the wastewater.
SUPERIORITIES OF THE 25-5.000-PACKAGE UNIT  
| | |
| --- | --- |
| Full automatic operation | Minimum maintenance |
| Advanced Processing Technology | High Treatment Efficiency |
| Low Initial Investment and Operating Cost | Compact Layout |
| Silent and Odorless operation | Recovery |
AREAS OF USE:
| | |
| --- | --- |
| Summer housing developments | Holiday villages |
|  Housings and mass housings |  Factories and Industrial Facilities |
|  Schools, Hospitals and Military Facilities | Temporary locations such as construction sites |
|  Accommadation Facilities and Restaurants |  Recreational facilities-Camps |
| Farms and Slaughterhouses | Villages, towns and Municipalities |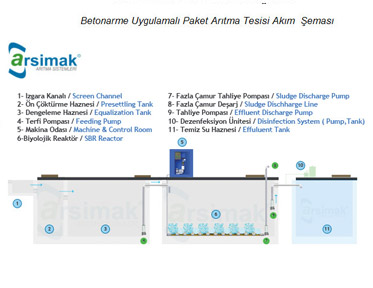 ARSİMAK ARITMA SİSTEMLERİ MAK. İNŞ. SAN. TİC. LTD. ŞTİ.

Headquarter & Factory :Sultan Orhan Mah. Hasköy San. Sit.14/B Blok No:7 Gebze / KOCAELİ - TÜRKİYE
Phone : + 90 262 644 80 99 (pbx)
Fax :+ 90 262 642 21 17
Mail : info@arsimak.com.tr